Department of Biotechnology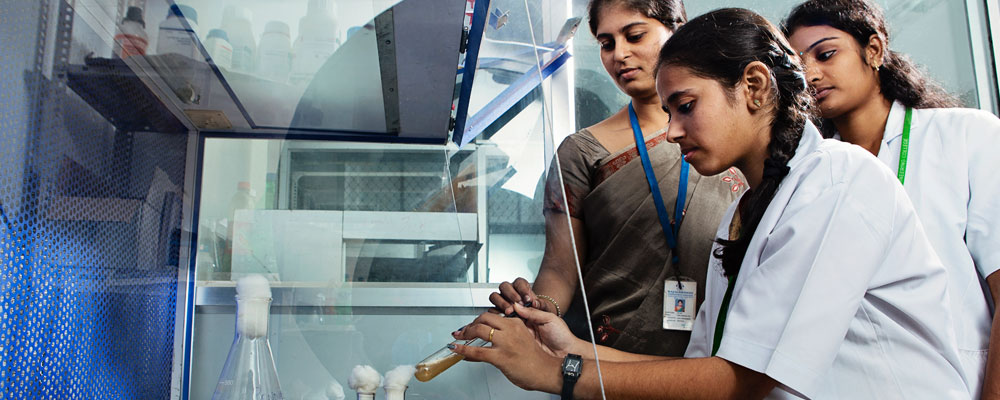 Engineering is imagination emerged through the aid of science to a plan on paper! Then it moves to realization in stone or metal or energy. Then it brings jobs and home to men. It elevates the standards of living. That's the Engineer's highest privilege.

Biotechnology is a subject for those who are passionate about science and to all those who thirst for knowledge. Biotechnology has been running in our veins for centuries now. No other industry is better placed to enhance the quality of life and respond to society's challenges of tackling an ageing and ever increasing population, healthcare choice and affordability, resource efficiency, food security, climate change and energy shortages. Biotech can and will pay economic, social and environmental dividends.

The Department of Biotechnology was started in the year 2002 with the mission of bringing a unique combination of skills and wide range of scientific disciplines. The department started its Post-Graduate program (M.Tech Biotechnology) in the year 2006 to provide a platform for the students to elevate their standards. This was followed by accreditation as a recognized research centre. The department has well equipped laboratories to fulfill the university requirements and constant upgradations are made to keep up with the present day advancements. Students with innovative ideas are constantly encouraged and the department helps them to conduct their research work within the college, allowing them to use the department resources.

We have our own Society of Biotechnology, where various events are conducted monthly to enlighten the students regarding the various aspects of the field of biotech. We have also recently initiated our own Journal Club to make students ready for the challenges they face in research. Workshops are organized regularly to bridge the gap between academics and industries.

The Department of Biotechnology has been winning the esteemed best outgoing student award consecutively since its inception in the college. The achievements of the students have allowed the college to attain national and international recognition. Our students have battled against many of their competitors and have been successful in being nominated for various scholarship programs including the prestigious Khorana, IAS-SRF and NCCS-DBT-JRF fellowships.

Our professors are the building blocks of the department. Our staff members are exposed to various AICTE sponsored Quality programs, UG refresher courses, and workshops held at various institutions in India to improve the quality of teaching. A few of our faculty members have received research grants from UGC, ICMR, AICTE and DBT central government agencies, to pursue research in the fields of Diabetes and microbiology.

We constantly strive to achieve excellence in teaching and research in the field of biotechnology. We put special efforts to amalgamate allied miscellaneous disciplines, so that our students achieve high level proficiency in the various sectors of Biotechnology.




Vision
To be a department of academic excellence focused on education, research and development and to conquer the frontiers of biotechnology, benefitting the society.
MISSION
To impart quality technical education in the different areas of Biotechnology.
To continuously enhance and enrich the teaching/ learning process
To provide an ambience for overall development of the students, to be more creative, innovative and globally competent ethical professionals
To promote research and develop technologies and products for the sustenance and wellbeing of the society