Department of Automobile Engineering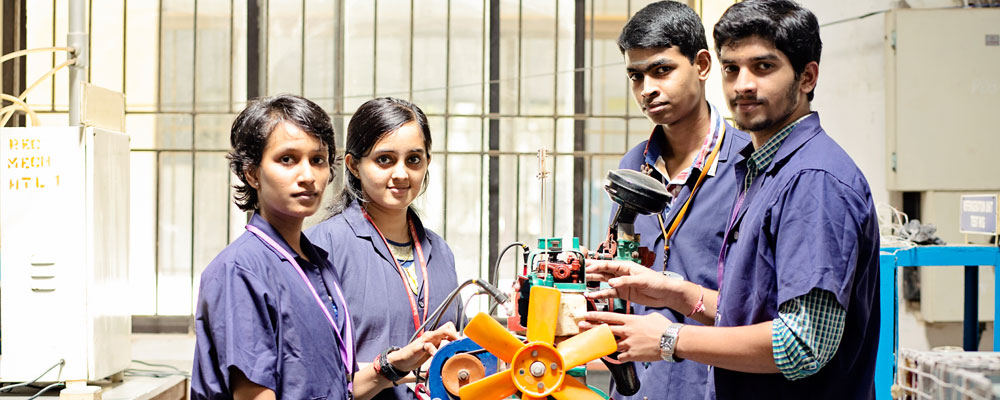 The Department of Automobile Engineering was started in the academic year 2006-07 with a sanctioned intake of 60 students. The department has dedicated and qualified faculty members. The department follows the syllabus of the Anna University and to supplement the syllabus, guest lectures and Industrial visits are organized. Laboratories are well equipped with latest equipments such as modern engines, chassis dynamometer, exhaust gas analyzer, pressure crank angle measurement systems, fuel testing equipments, etc.

The department is consistently getting Anna University Ranks and secured Gold Medals in three batches out of four batches so far.
2010 : First Batch secured Gold Medal and 8th Rank
2011 : Second Batch secured Gold Medal and 2nd and 3rd Ranks
2012 : Third Batch secured 7th and 8th Rank
2013 : Fourth Batch secured Gold Medal and 2, 4, 6, 8 and 9th Ranks
2014 : Fifth Batch secured 2, 7 & 10th Ranks
2015 : Sixth Batch secured Gold Medal and 10,14, 23, 24, 28, 31 and 32nd Ranks
2016 : Seventh Batch secured 3,4,19,31 and 32nd Ranks.

REC-Bosch Joint Certification Training Centre is functioning in the college to train the students of Automobile and Mechanical Engineering students in Diesel Injection system, Automobile Air conditioning system, Automotive Electrical system and Vehicle Analyzer system. The department of Automobile Engineering is recognized as Center of Excellence by M/s. Ashok Leyland, Chennai. Department has regular interactions with several Automotive companies like India Pistons, Lucas TVS, Wabco India, Sundaram Clayton, TVS Motor Company, Hyundai Motors, Hindustan Motors, Mando Brakes, Turbo Power Engineers etc. SAE Collegiate Club of REC is functioning actively and several competitions are regularly conducted for the students to exhibit their talents.

Department Library The Department library is equipped with books related to latest automotive technologies and CD's containing videos related to Automobile Engineering. The Department is working on Bio-diesel Research Project and faculty members are actively engaged in search of alternative fuels for IC engines. Students are encouraged to work on innovative projects in collaboration with the Innovative Project Cell of the Institution.

VISION:
To be an institution of excellence in Engineering, Technology and Management Education & Research. To provide competent and ethical professionals with a concern for society.
MISSION:
To impart quality technical education imbibed with proficiency and humane values.
To provide right ambience and opportunities for the students to develop into creative, talented and globally competent professionals.
To promote research and development in technology and management for the benefit of the society