Placement
Objective
The objective of the Placement Centre is

To provide job opportunities by bringing the companies for campus recruitment to all the eligible students of final year.
To enhance current technical and practical knowledge of students
To make the students 'PLUG & PLAY' by imparting soft skills and employability skills.
To have strong Industry-Institute Interaction.
People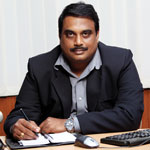 I. Philip Praveen
Director, Training & Placement
The Training and Placement Cell is headed by Prof. I. Philip Praveen. Starting his career as a Lecturer in the Electrical & Electronics Engineering Department of REC, in the year 1998, he carved a niche for himself as an exemplary teacher with a passion for making the students employable by the Industry. He is currently an Assistant Professor in the Department. Working along senior Professors, he played a key role in the conceptualization and design of a path breaking program called "Residential Employability Training Camp". The roll out of this program led to a phenomenal increase in the number of students placed in Campus Recruitments.

His ability to network with Industries and other Professional societies led to the Institution entering into MoUs with the Confederation of Indian Industry (CII) and also becoming members of Education Promotion Society of India (EPSI), Indian Society for Training and Development (ISTD), National Association of Software Companies (NASSCOM), ICT Academy etc.

He also co-ordinates the overseas relations of the Institution handling issues like student recruitment and identifying areas of mutual collaboration between Institutions. He has represented the Institution in various education fairs at Kuwait, Sri Lanka, Sultanate of Oman and the GETEX Fair- Asia's largest education Fair at Dubai. He was part of the CII team to Singapore to study the best practices of higher education Institutions in Singapore. He was also selected to represent the Institution in the EPSI delegation to visit leading Technical Institutions in the United States in the year 2008. In June, 2011 he represented the Institution in NAFSA 2011 at Vancouver, Canada.

He is ably supported by a team of Professionals with rich Industry and Academia experience and also student and faculty coordinators from each department.


Activities
Contacting the recruiting companies regularly for campus placement.
Conducting Campus Recruitments
Arranging Guest Lectures from Resource Persons from Industry to deliver current knowledge to students and faculty.
Arranging Industrial visits , In Plant Training and Industry Projects to impart practical knowledge and industry practices.
Conducting Career Awareness programmes by Industry Professionals.
Conducting Soft Skill Programmes to students by Industry Experts.
Conducting Mock Group Discussion and Mock Interview by HR Professionals.
Conducting Seminars, workshops and conferences to HR and others.
Executing activities under MoUs signed with Industry like Infosys, FL Smidth,etc.
Other Triple I (Industry-Institute Interaction) activities that develop knowledge and skills of students and faculty.
Facilities
Campus has a facility to conduct recruitment for more than 2500 candidates.
Airconditioned Halls to conduct Pre-Placement Talks and other programmes.
Labs to conduct on line tests and class rooms to conduct other tests.
Halls to conduct Group Discussions
Interview cabins