Sustainable Construction Materials
VISION :
To be a frontier research centre in construction Materials for developing environmental friendly building materialsusing sustainable concepts and embracing innovative technologies for the benefit of society and industry.
MISSION:
To pursue and excel in research to develop construction materials with less carbon footprint.
To emerge as the most preferred resource centre for construction industry in developing innovative products to suit the customer needs.
To develop and transfer sustainable technologies addressing societal Needs
To be a preferred knowledge centre for providing structural engineering consultancy for using innovative materials in construction
To train the students with focus on developing new products using sustainable concepts.
FUNDED PROJECTS:
The Sustainable construction Materials Research Centre aims at research and development of sustainable and innovative building materials. The Centre is established by the funding from various sponsored research projects –DST (YSS), DRDO (NRB) and DST (WMT).
DST-SERB has funded a project on "Characteristics of Aerated Concrete using Mineral Admixtures" for Rs. 20,94,090/-Lakhs. Project Sanction No: YSS/2014/000044. (Sep 2015-Sep 2018)
DRDO-NRB (Naval Research Board) has funded Rs20,15,887/-for the Project on "Corrosion Resistant Concrete with Phosphogypsum, Mineral Admixtures and Carbon Fibres for Marine Applications". Project Sanction No: NRB/4003/PC/376 (March 2016- March 2018)
DST- TDT-WMT (Technology Development & Transfer) has funded a project on "Grinding waste from automobile Industry as sustainable construction material" for Rs. Rs.48,82,290/- Project Sanction No: DST/TDT/WM/2019/85. (April 2020-April 2023)
RESEARCH ACTIVITIES:
The sustainable construction materials research laboratory is focused on evolving effective building materials for varied applications. Methods to realize light-weight construction materials enable better utilization of raw materials. Additives and blends with customized composition provide wide scope of applications for customizing construction materials with parameters tuned to application requirements.

High-volume industrial waste such as fly-ash and bottom-ash from thermal power plants enable an alternative high-volume raw material source for synthesizing building materials.
Major research oriented project activities being pursued at this lab are:
Developing Geopolymer aerated concrete based on fly-ash using mineral admixtures.
Corrosion Resistant Concrete with Chopped carbon fibres and phosphogypsum.
Reactive Powder Concrete with Polyurea coating for Blast Resistance.
Service life of Graphene oxide (GO) admixed in association with CECRI.
High strength lightweight concrete for precast concrete members.
Artificial lightweight aggregate which aims at high volume utilization of fly ash and bottom ash
Use of geogrid as reinforcement as a substitute for steel rebars in slabs
Latex concrete for absorbing shocks in Machine foundations.
Apart from research on sustainable construction materials we are also working on the disaster management and diagnosis techniques using sensors for monitoring the distress in structures. Research work on studying the feasibility of using "grinding waste from automobile industries as sustainable construction material" was carried out and the results have been patented with claims that this material can be used in concrete as sand replacement up to 20%, in bitumen pavements and also concrete without cement has been produced using fly ash, metakaolin and catalyst.

INFRASTRUCTURE AND FACILITIES:
The research laboratory is established in an area of about 4000 sq.ft with facilities for processing the raw materials by pulverizing, mixing concrete and curing by accelerated methods using hot air ovens, steam chambers and high temperature autoclaving. These facilities enable preparation, processing, fabrication and characterization of varied construction materials.
The laboratory is equipped with facilities for testing concrete in both fresh and hardened state for comprehensive characterization and process qualification.
Facilities are available for preparing the concrete for micro structure analysis using cutting machine and polishing disc.
Characterization instruments include standard strength, and endurance tests along with application specific tests such as chloride penetration, shrinkage testing, corrosion testing and impermeability. A high resolution optical microscope with software utilities provides the ability to view, capture, analyze and characterize microstructure of materials.
Testing Instruments include 3000 kN compression Testing machine, 100 kN Flexure testing machine and 100 Ton Loading frame with all necessary accessories including data logger, for testing all structural elements like beam, column, wall panels and slab
FACILITIES AVAILABLE
Accelerated Curing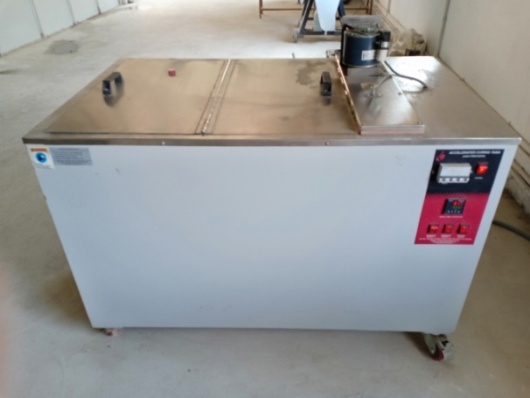 Steam Curing Chamber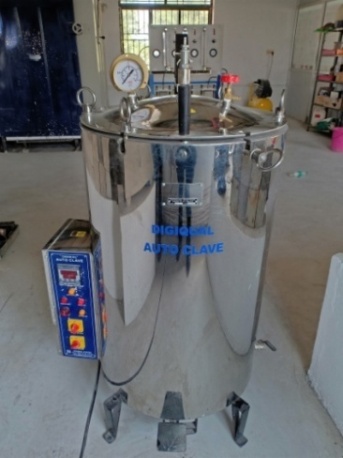 Autoclave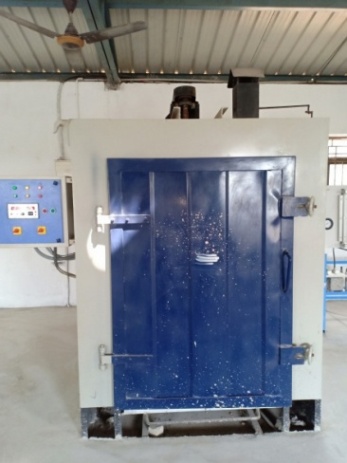 Hot air oven
Durability Testing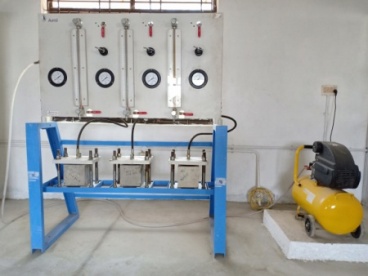 Impermeability Testing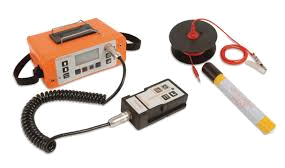 Elcometer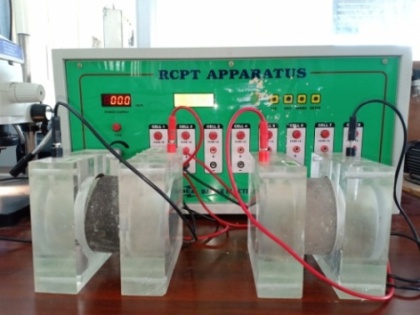 RCPT
Micro structure analysis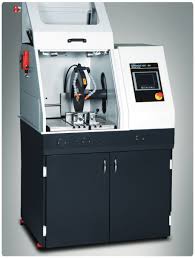 Cutting Machine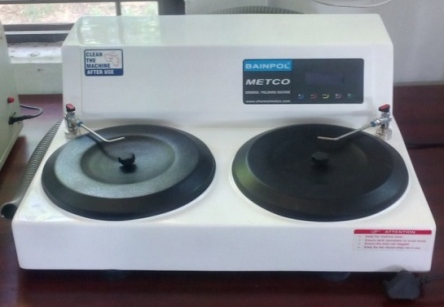 Polishing Disc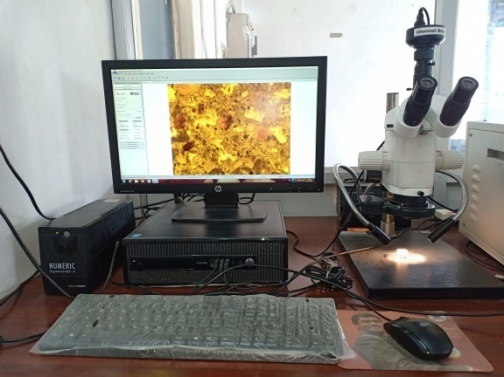 Optical microscope
Strength Testing Equipments
Loading Frame (100 Ton)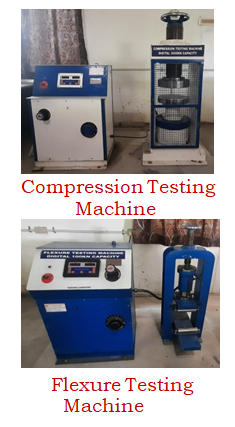 PRODUCTS DEVELOPED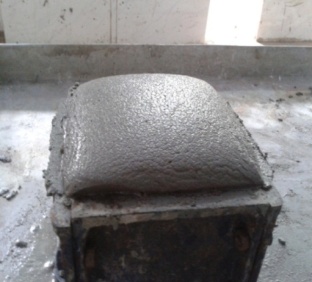 Aerated Geopolymer concrete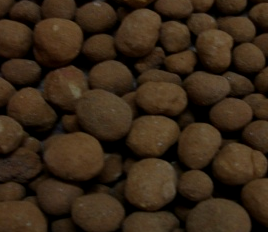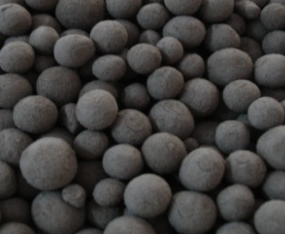 Artificial lightweight Aggregates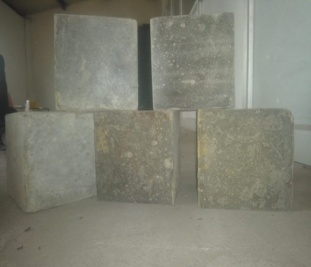 Corrosion Resistant concrete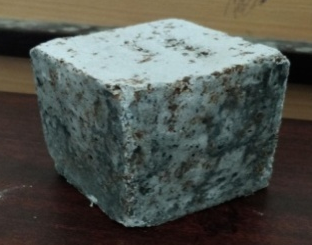 Concrete from Grinding Waste
CONSULTANCY WORK
The facilities in the research Lab has been used for various consultancy works for public and private sectors and an amount of around Rs 8,00,000/- has been generated so far from the consultancy work.
Material testing for Krishna Water project and mix design for the entire project was done for PWD(Public Works Department, Govt of Tamilnadu)
Material Testing for Highways Department and Rural Works Development is a routine consultancy work carried out in this centre.
Consultancy work was carried out for Ashok Leyland in developing a product using the grinding waste generated in Ennore plant and the product was used in the construction yard in the factory.

Foundry sand from Sakthi Auto Limited Tiruppur was used for developing six different products- Aerated concrete, Pervious concrete, fly ash bricks, Latex concrete, Pre-packed and Polymer mortar which has been for construction in their factory premises.
Consultancy work for Steel sludge Waste from ILJIN and grinding waste from WABCO are also carried out for converting it into useful building material. Reactive powder concrete has been developed from the steel sludge waste.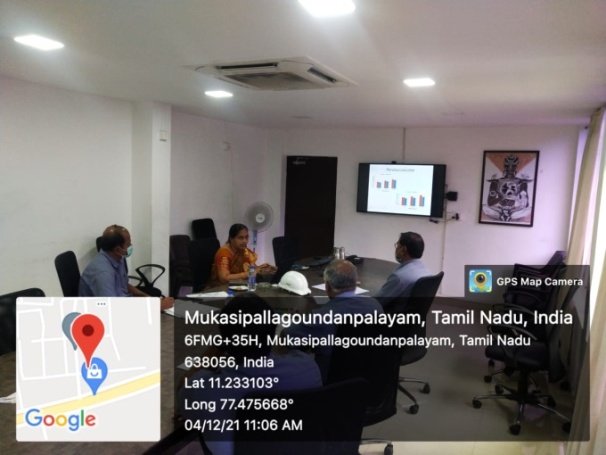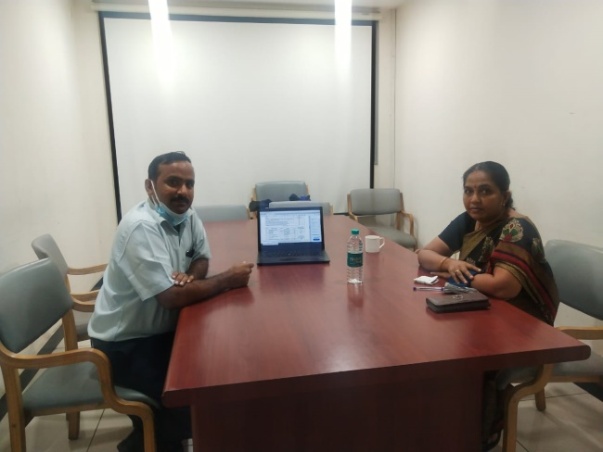 TRAINING PROGRAMMES ORGANISED
A two days workshop on "Corrosions Resistant concrete" was conducted on 29.11.17 and 30.11.17. The experts for the conference were Dr.ManuSanthanam, Professor, IIT Madras, Dr.N.P.Rajamane. Former Scientist CSIR-SERC, Dr.Vedalakshmi-Principal Scientist CSIR-CECRI and Dr.Sunitha Nair-Scientist IIT Madras. 40 participants attended the workshop and there was a demonstration session of the durability testing in the Research Lab.

A workshop on "Prototype Development" in association with IIC and CSRC in the Sustainable Construction Materials Research Lab for II and III year students from 18th to 20th March 2021. Students were trained to work on special concrete and Demonstration on various facilities available in the research Lab was given to them.

PATENT GRANTED:
Based on the work carried out in the Research Centre a Patent has been granted on "GrindingWaste from AutomobileIndustryasaPotential Construction Material". Patent No. 383096, Date of entry 24thSeptember2018. Innovators: Dr.S.Geetha, Dr.M.Selvakumar
RESEARCH PUBLICATIONS
Journal Publications
Geetha, S and Selvakumar. M (2015) "Lightweight Composite for Structural Wall Panels", Materials Today, 2 , pp. 2928-2937.
Dr S.Geetha and Dr M.Selvakumar "Characteristics of Lightweight Composite wall panels with Polypropylene fibres," International Journal of Engineering Research and Technology, Vol. 4, no.13, pp.57-63 , 2015.
Dr S.Geetha and Dr M.Selvakumar "High performance concrete with copper slag for Marine Environment" Materials Today, 4 , pp. 3525-3533,2017.
Dr S.Geetha and Dr M.Selvakumar "Optimization of structural Light weight Concrete for use in precast construction" International Journal of Emerging Technology and Advanced Research, Vol. 7, no.2, pp.263-268 , 2017
Dr S.Geetha , Akshaya and Hemalattha "Geogrid reinforcement in Aerated Concrete" International Journal of Innovative Research in Science, Engineering and Technology, Vol. 7, no.5, pp.66-71 , 2018
Geetha.S and Selvakumar.M (2018), "Graphene Oxide Admixed Aerated Concrete Composite with Carbon Fibres", Materials today, Elsevier, Vol. 5, Issue 9, pp.19808-19814
Geetha.S and Selvakumar.M (2018), "Service Life Prediction for Concrete Composite with Carbon Fibres for Marine Environment" International Journal of Science and Technology, Vol.4, issue 2, pp.113-124
Dr S.Geetha and Dr M.Selvakumar (2018)"Fibre Reinforced Lightweight Composite Reinforced with Geogrid for Wall Panels" Materials Today, 5 , pp. 5623–5630,
Geetha.S and Selvakumar.M (2019), "A composite for the future-Concrete composite reinforced with shape memory Alloy fibres", Materials today, Elsevier, Vol 18, pp.5550-5555
Geetha.S and Selvakumar.M (2019), "Properties of Aerated Hempcrete as a potential sustainable Building Material", IOP Conf Series, Material Science and Engineering 577 pp.1-8
Geetha.S and Selvakumar.M (2020) "Ductile cementitious composite with copper slag as fine aggregate" in Materials Today: Proceedings 26 (2020) pp.434–438.
Geetha.S Selvakumar.M, Muthulakshmi .S (2020) "Optimization of high strength concrete with construction and demolition waste", IOP Conf. Series: Materials Science and Engineering 989 (2020) 012027 IOP Publishing doi:10.1088/1757- 899X/989/1/012027
Muthulakshmi.S, Geetha.S and Selvakumar.M (2020), "Application of lime and GGBS to improve the strength of clayey sand", IOP Conf. Series: Materials Science and Engineering 989 (2020) 012028 IOP Publishing doi:10.1088/1757- 899X/989/1/012028
Dr.M.Selvakumar, Dr.S.Geetha, SnehaKasthurirangam, Sithrubi and Sathyasriya published a paper(2021) "Effect of Glass Powder as Partial Fine Aggregate Replacement on Properties of Basalt Fibre Reinforced Concrete" in Materials Today Proceedings Elsievier, Volume 43, Part 2,  Pages 1460-1464. (Scopus Indexed with impact factor 0.694)
Selvakumar.M, Prasannakumari. V, Geetha.S, Muthulakshmi.S, (2021) "Validation of Line source Models for determining Industrial Pollution and Integrating with IoT for Vulnerability Management", IOP Conf. Series: Materials Science and Engineering. 1055 012022 IOP Publishing doi:10.1088/1757-899X/1055/1/012022
Geetha.S, Selvakumar.M, Muthulakshmi.S, (2021) "Characteristics of Polymer Modified Reclaimed Bitumen and Aggregate as Sustainable Pavement Material", IOP Conf. Series: Materials Science and Engineering 1055 (2021) 012019 IOP Publishing doi:10.1088/1757-899X/1055/1/012019
Geetha.S Selvakumar.M, Muthulakshmi .S (available online) "Strength Properties of Aerated Cement Composite Reinforced with Steel Fibres" Materials Today: Proceedings , Elsevier
Muthulakshmi.S, Geetha.S and Selvakumar.M (available online) "Predicting soaked CBR of SC subgrade from dry density for light and heavy compaction" Materials Today: Proceedings, Elsevier
Geetha.S and Selvakumar.M (2021) "Optimization of Multifunctional Nano Cement Composite for Self – Sensing" in Materials Today: Proceedings, 44 Part 1 pp 70-74 , Elsevier
Dr.M.Selvakumar, Dr.S.Geetha (2021) "Alkali Activated Porous Material with Nano Graphene Oxide as Adsorbent in Wastewater Treatment" Materials Today: Proceedings 45, Part 4, 2021, pp 4087-4090.
Dr.S.Geetha, Dr.M.Selvakumar, (2021) "Self Prestressing concrete composite with shape memory alloy " Materials Today Proceedings Elsevier, Volume 46, Part 10, , pp 5145-5147
Dr.S.Geetha, Dr.M.Selvakumar, Mrs.S.Muthu Lakshmi "3D Concrete Printing Matrix Reinforced with Geogrid " Materials Today Proceedings Elsevier,Volume 49, Part 5, 2022, pp 1443-1447
Dr.S.Geetha, Dr.M.Selvakumar, Mrs.S.Muthu Lakshmi "Investigation on Properties of Reactive Powder Concrete with Automobile Grinding Steel Waste as Fine Aggregate" E3S Web of Conferences 309, 01216 (2021), pp. 1to 4.
Dr.S.Geetha, Dr.M.Selvakumar, Mrs.S.Muthu Lakshmi "Properties of aerated concrete with steel sludge waste from automobile industry" Materials Today Proceedings Elsevier,(available online)
Book Chapters:
Dr.M. Selvakumar, Dr.S. Geetha, Agaliya B. V., Shine S., Rupasudharshnee R. U. authored a book chapter on "Study on Properties of Polymer Mortar with Foundry Sand "Sustainable Practices and Innovations in Civil Engineering Select Proceedings of SPICE 2021, Part of the Lecture Notes in Civil Engineering book series (LNCE, volume 179), Springer Publication, pp 209-218 (available online from 21 November 2021)
Dr.M. Selvakumar, Dr.S. Geetha, Christina Joby Maria, Pavithra S., Rakesh S., Udhaya K. authored a book chapter on "Use of RMC Wastewater in Concrete with Admixtures, for Strength Enhancement" Sustainable Practices and Innovations in Civil Engineering, Select Proceedings of SPICE 2021, Part of the Lecture Notes in Civil Engineering book series (LNCE, volume 179), Springer Publication, pp 201-207 (available online from 21 November 2021)